Water Activity Centre
MOLESEY JAGUAR SEA SCOUTS
Tap to see comments from regular park users
Tap to see comments on Jaguar Sea Scouts website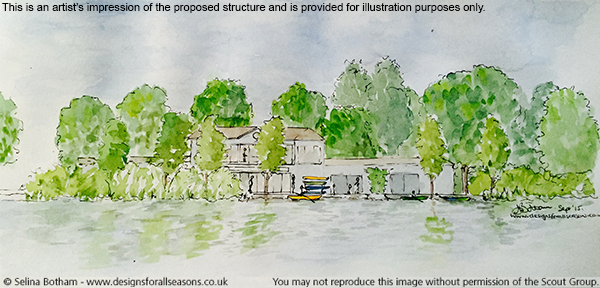 THE ARCHITECTS' IMAGES OF THIS PROPOSED DEVELOPMENT HAVE BEEN WITHDRAWN BY JAGUAR SEA SCOUTS AND REPLACED AT THEIR REQUEST WITH THIS ARTIST'S WATER COLOUR IMPRESSION.
A proposal has been put forward to develop a Water Activities Centre on natural riverbank and within the undeveloped functional flood plain at Hurst Meadows. Plans from Molesey Sea Scouts show an industrial-style, two-storey building on public open space, with a frontage to the river of more than 30m. The building would be 10m deep, with a similar size fenced compound behind, extending a total of 20m into the Meadows over what is currently a grassy glade of trees.

The same stretch of river's edge shown in the impression above as it is now, seen from the River Thames ©John Inglis

The downstream boundary of the proposed site would be opposite the upstream end of Duck's Eyot, at the entry for navigation along the Surrey channel which is used by boats travelling in both directions along the Thames to and from Molesey Lock. The proposal would span the Thames Path, and river's edge vegetation would be cleared for slipway and pontoons; mooring pilings are proposed in the river.
The river bank and the Eyot are in a designated Site of Nature Conservation Importance (SNCI) which covers the River Thames, and the proposal site is on the edge of an SNCI which covers Hurst Meadows. There are rare and unusual species - flora and fauna - within Hurst Meadows, which is widely recognised as an unusually rich and diverse habitat. This is a Thames flood meadow and the first line in defence when the river rises.

Showing the restricted width of the channel carrying both upstream and downstream traffic at this point - Ducks Ait Nature reserve (right) , proposed site for water activity centre (central in image). - Photo: © John Inglis
The centre, which is intended as a hub for Surrey and beyond, would rise to a height of almost 8m. Much of the proposal shows warehousing for boat storage, with a central area for other facilities. The development would result in removal and/or enlosure of mature and semi-mature trees in the meadows and on the riverbank.
The Friends of Hurst Park fully support the scout movement - we have members with long experience of volunteering in local scout groups, members with children in the movement and members who are scouts themselves. Local opinion informs us that a centre to serve the needs of 1st Molesey Scouts would be far more acceptable if it were traditional in style and smaller - a new boathouse was always envisaged as a replacement for an previous hut upstream. With a more appropriate proposal there would be several feasible alternative sites, but this approach is rejected by the scouts. Nevertheless that does not change the fact that the chosen location for such a huge development is the worst on several counts, nor that other alternatives acceptable to all might well be viable, if the will was there.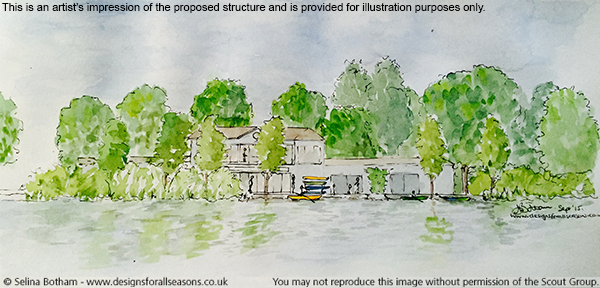 A further depiction (same view) of the proposed Water Activities Centre ©Molesey Jaguar Sea Scouts
There are many grounds for objection, including: removal of public open space; impacts on the local and wider ecology, removal of a sensitive link in the green chain of nature conservation sites along the Thames; impacts on nesting waterbirds; navigation and safety; water quality; design, scale and massing of the proposed building; cumulative impacts from setting a precedent for development in Thames flood plain; urbanisation of natural riverbank, adverse impact on an Arcadian vista identified in the Thames Landscape Strategy (to which Elmbridge is a signatory).
The Friends are concerned about profound and irreversible impacts from this development on Hurst Flood Meadows, and about the inevitable collateral damage to the river bank from a water activities centre of this size on this stretch of the river.
The intangible benefits for every person - frequently overlooked - from a place that is universally accessible, educational, spiritual and inspiring must be taken into account. The riverside here provides a unique opportunity for families to experience the natural world and enjoy its astonishing - vanishing - variety. You can see more about the many designated nature conservation sites nearby - some of them of global and national importance - that are linked by the River Thames through Hurst Park. Please tap here.
There is more about revised planning policies relating to flood risk and building in flood plains here.
It is clear from the many well-made comments that regular users of Hurst Meadows share these concerns. Friends can contact us here: friendsofhurstpark@gmail.com

Click here to see modified proposals for a water activity centre